This post may contain affiliate links. By clicking on a link, BSF will receive a small commission. Thank you for helping to keep this blog running.
Did you know that most adults wish they could draw and paint?
Are you one of them?
Give your children the gift of an art education that will keep giving for the rest of their life.
Being a homeschool mom is tough, the last thing you need is another thing to do. Much less, have to teach a subject that you feel completely inadequate in. What if you could give your children the art skills they need and want, easily, and without any prep work? Imagine your children actively creating and gaining life-changing confidence in their skills! You can do this with the Ultimate Bundle.
Why buy the Ultimate Bundle by Beyond the Stick Figure?
Beyond the Stick Figure is a 36-week art curriculum built for busy moms like you! It is packed with weekly technique lessons, daily practice lessons, short targeted exercises, and heaps of fun. Students will compile over 20 unique projects over the five units: drawing, pen and ink, watercolor, acrylic, and 3D sculpture design. This course is geared toward kids 5-95, with easy to follow instructions and differentiated projects. It is the perfect way to introduce your entire family to the world of art.
Unlike most of the art programs out there, Beyond the Stick Figure is not just a collection of projects, but a course in art techniques. These core techniques will give your child the confidence and ability to independently create masterpieces. With built-in practice sessions, children will be encouraged to practice and improve their skills.
Wait there's more!
The Ultimate Bundle also includes three additional introductory courses AND 12 mini-project courses. A new one added each month.
It's like the only art curriculum you will ever need. No need to buy something new next year or even the year after. You get lifetime access to them all.
That's a gift that really keeps on giving!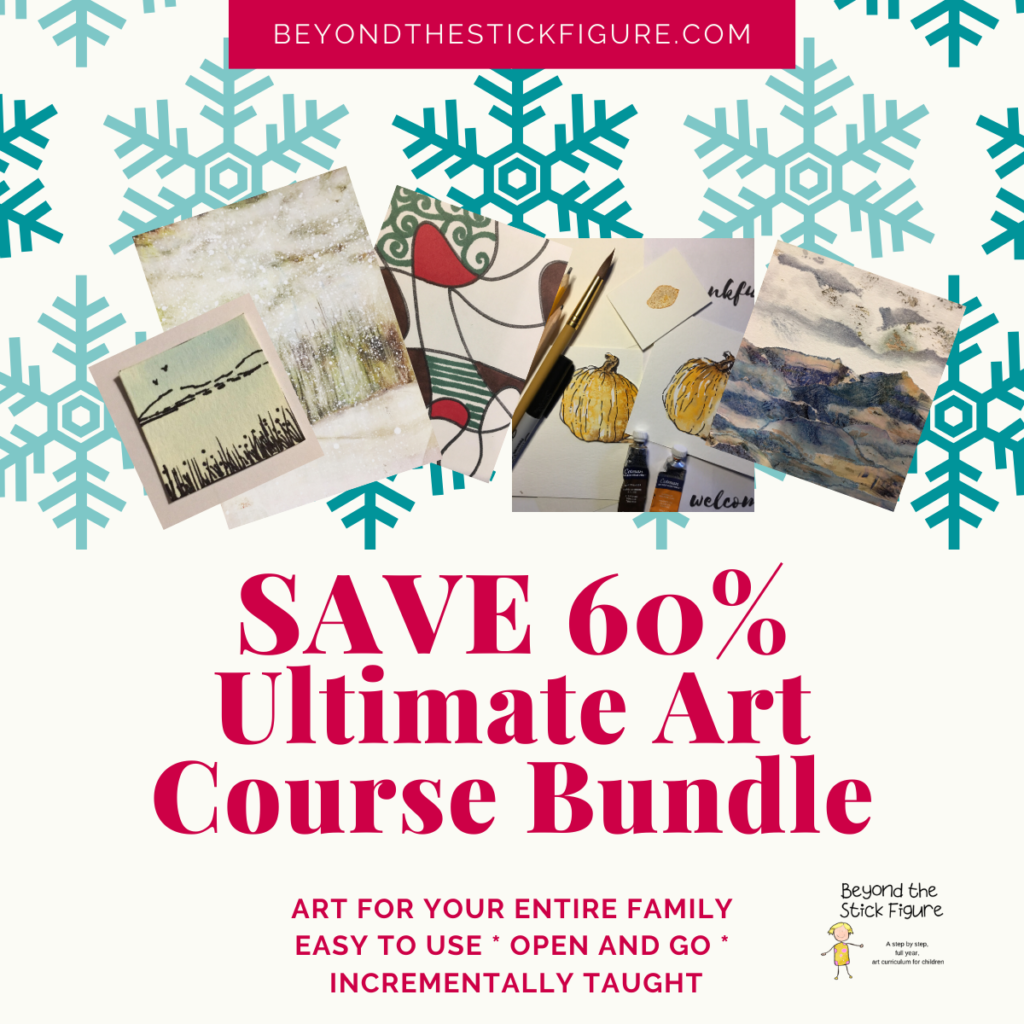 Need some more reasons to buy the Ultimate Bundle?
Beyond the Stick Figure is loved by homeschool families around the world. Here's what some of our fans have to say.
"Up until now, we have used a variety of curricula, books, and online lessons for art.  They have been fun and we have learned lots, but I always felt that there were basic skills and concepts the boys were missing.  Beyond the Stick Figure is great because it starts with the basics and builds upon them so children have well-rounded drawing skills."
Randi, Peanut Butter Fish Lessons
"Overall, we enjoyed Beyond the Stick Figure's drawing course. I feel my kids are finally getting a good art education. Ms. Stansfield has done a nice job creating an art program that makes life a little easier for homeschool families. Best of all, my kids love it!"
Sharon, The Secret Life of Homeschoolers
"Beyond the Stick Figure makes art truly open-and-go.  I enjoy knowing what to teach for art and not guessing what to teach next.  I'm looking forward to continuing this program with my children this coming year knowing that I have art covered."
Suzanna, Wonderfilled Days
"(Our son with) Hyperfocus on special interest, will lose interest if you under challenge him, executive function, motor skill planning, hyperactive, dysgraphia (struggle to write due to low muscle tone) are but a few challenges we face. He is also a kinetic–visual–audio learner.  He has to move, see, hear while doing in order to learn! So, you can imagine that we look for programs that can really accommodate his needs, yet not underestimate him.  We found it!  Beyond the Stick Figure Art Course!"
Willa, Interesting Developments
Now is Your Chance, Get this Black Friday Deal!
Instead of shelling out thousands of dollars for private art lessons, or wracking your brain attempting to teach another hard to use art curriculum because you feel you should. Just click play and dive into the world of Beyond the Stick Figure–Easy to use, open and go, incremental art courses for the whole family. (ages 5-95)
Hurry and grab the ultimate deal and save over $450!!
The Ultimate Bundle includes:
*Beyond the Stick Figure Full Year Art Curriculum–180 days of amazing art lessons in drawing, pen and ink, watercolor, acrylic, and 3D design ($360 value)
*Introduction to Watercolor ($19 value)
*Family Drawing Course Parts 1 and 2($25 value)
*12 monthly mini-project courses ( $360 value)
*Introduction to Pen and Ink ($15 value)
All this for $275 or twelve easy payments of just $25!!
Get this ultimate bundle now, click here: https://beyond-the-stick-figure.teachable.com/p/ultimatebundle/