This post may contain affiliate links. By clicking on a link, BSF will receive a small commission. Thank you for helping to keep this blog running.
Creativity is never in short supply in my home.  However, this year, we seem to need an extra dose of creativity to make Mother's Day special. Homeschool moms work extra hard all year long. Even though we are used to homeschooling, running a homeschool during a crisis is difficult. In addition, many of our Mother's Day traditions are not available this year, or difficult to come by. Even so, we need to celebrate mothers and all that they do for their families. Mothering is not just about having kids and keeping them feed and clothed. Honestly, that is a full time job in and of itself. However, mothers are building the future. The are very, very important people. So, let's look at some ways to be very creative this Mother's Day
Why be Creative this Mother's Day
Life has been very different, but the role of moms hasn't changed at all. Mothers make a difference every day in our life! So, while your favorite restaurant may be closed, and you can't gather with friends, Mother's Day is still coming soon. So, how can your be creative this Mother's Day? You can be creative in your planning, gifts, meals, and celebration. There are always ways to make mom feel special. Besides, she will be delighted with the thought much more than the actual gift. Remember how excited she always is when little ones pick dandelions for her! Therefore, put on your thinking caps and give Mom an amazing day!
Creative Supplies for Mother's Day
One thing that we have heard about from friends and subscribers is the difficulty in getting supplies. Stores may be closed. Mail is running slower than usual. How can we create amazing art without piles of supplies? Well, I keep a stockpile of art supplies next to my toilet paper, rice, and beans–but, that's another story! However, beautiful art does not necessarily require mountains of supplies. In fact, so much can be done with a few, high quality items. Oh, and this is where creativity comes in! There are supplies that you have that you don't even realize. Sometimes, you just need to experiment. What happens when I mix these two paints? How can I use these markers to make a special effect. It may be difficult to get new supplies, but that should not stop your creativity. Go on a scavenger hunt around the house and see what items you already have to create gifts, cards, and decorations.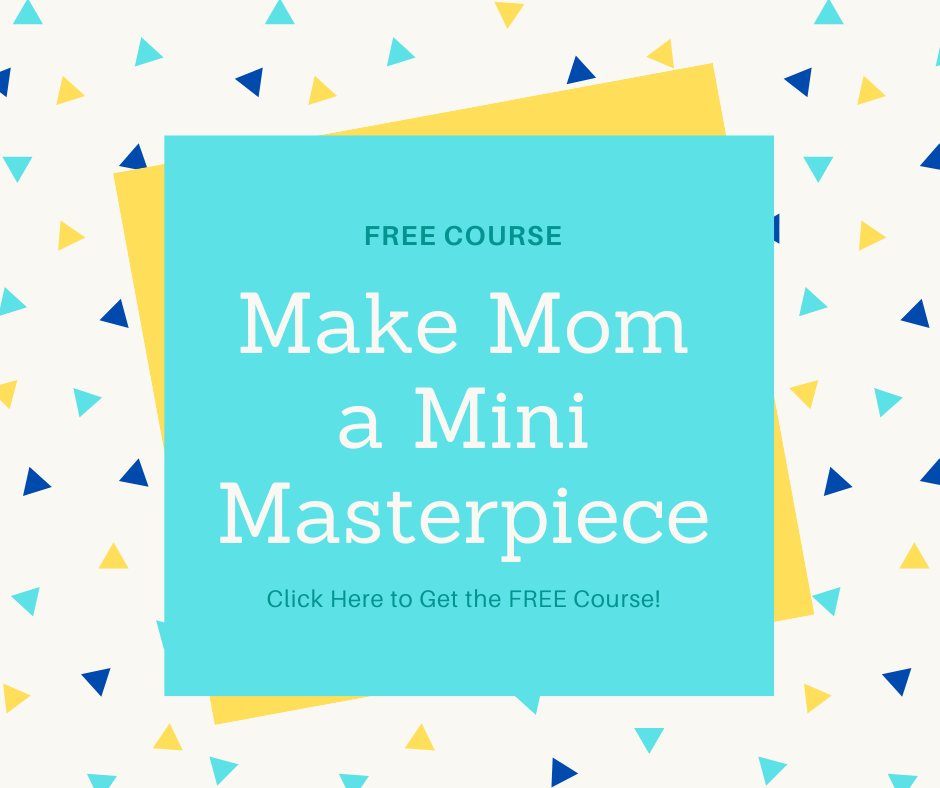 What Mom Really Wants for Mother's Day
Hint, it's not diamonds or a new car. Well, I wouldn't mind diamonds and a new car but, that's not on my actual wish list. Mom wants her family to show that they appreciate her. She needs to know what all the sacrifices she makes, the long hours, the endless work means something. Fancy chocolates, big bouquets, and a dinner out at a posh restaurant are always good. But, really, it is the time with family that mom will remember. The simple cards, the notes of love…those are what she treasures in her heart.  And it will mean the world to her if you use some extra creativity to make her feel special. So, don't concentrate on what you can't do, think about what you can. You can still make little gifts and cards. In addition, staying home for dinner doesn't mean mom has to cook…hint, hint! Just take some moments to let your mother ( or wife, dads we need your help!) catch her breath, and relish the time with her family. Tell her that you love her, and present her with your little masterpieces. Perhaps let her sleep in or take a long bath uninterrupted—yes that means no fingers under the door.  These are the ways to make this Mother's Day unforgettable no matter what circumstance you are going through right now.
Why Not a Giveaway for Mom?
I'm glad you asked! Maybe you can't go shopping this year, but you could enter to win a sweet prize for mom. Today I am super excited to be helping my friend Felice Gerwitz from Vintage Homeschool Moms celebrate her 400th Podcast Episode on Vintage Homeschool Moms!! Together several of us have come together to help her celebrate by giving away ONE $200 Amazon Gift Card.
Let me share a bit about my friend Felice. Felice began homeschooling in 1986 when her two children were little and she thought it might be temporary. In fact, her husband told her to try it for six months and if homeschooling didn't work, to put the kids in school. Well, she started her journey and her two kids thrived. Later when her family increased…by three more children, she continued on and successfully completed thirty-two years in 2018 graduating her last of five children. Mentoring homeschool moms is a passion! Felice has lots of homeschool experience to share with you. Be sure to check out Vintage Homeschool Moms and prepare to be inspired, encouraged, and supported in your homeschool journey.
For more encouragement, you can find Felice here too:
Media Angels
The Ultimate Homeschool Podcast Network
The Ultimate Christian Podcast Network