Now that you have resolved to be creative and fearless this Christmas and are creating all over the place, it's time to think wrapping paper. We all love to unwrap gifts. There are so many ways you can be a lot creative and a little frugal this Christmas. Ready to make you own wrapping paper.
Handmade Wrapping Paper
Before commerically printed wrapping paper, people used plain paper to wrap their gifts. However, the gifts were not drab. Dried flowers, pine springs, and ribbons dressed up the packages. People had to be creative to turn ordinary brown paper into a work of art. So handmade wrapping paper is not a new idea, but you may need to reimagine what the term wrapping paper means when you make your own wrapping paper.
Don't Go Over Board!
I have to throw in a word of caution. Normally I would tell you to create and paint to your heart's content, and well you still can. However, we need to stop and think about this for a moment. This is wrapping paper, it is meant to be taped or tied and then undone. Handmade wrapping paper adds a special element to your gifts, however, you need to be realistic with your time during this season. Consider how long your chosen design will really take and if you can honestly invest that time. You don't want to miss the joy of giving because you are so stressed out by the paper!
Types of DIY Wrapping Paper
There are several types of wrapping paper that you can make. We will go over a few but I encourage you to use your creative thinking cap and brainstorm more. Remember, I said we need to let go of our preconceived ideas of wrapping paper. I once dove headlong into creating absolutely goregous wrapping paper–it was scrumptious. Except, I invested so much energy and creative juices, I couldn't bear to use it as wrapping paper. It is still a beautiful masterpiece, but remember this is an exercise in creativity, not stamina! Think way outside the box!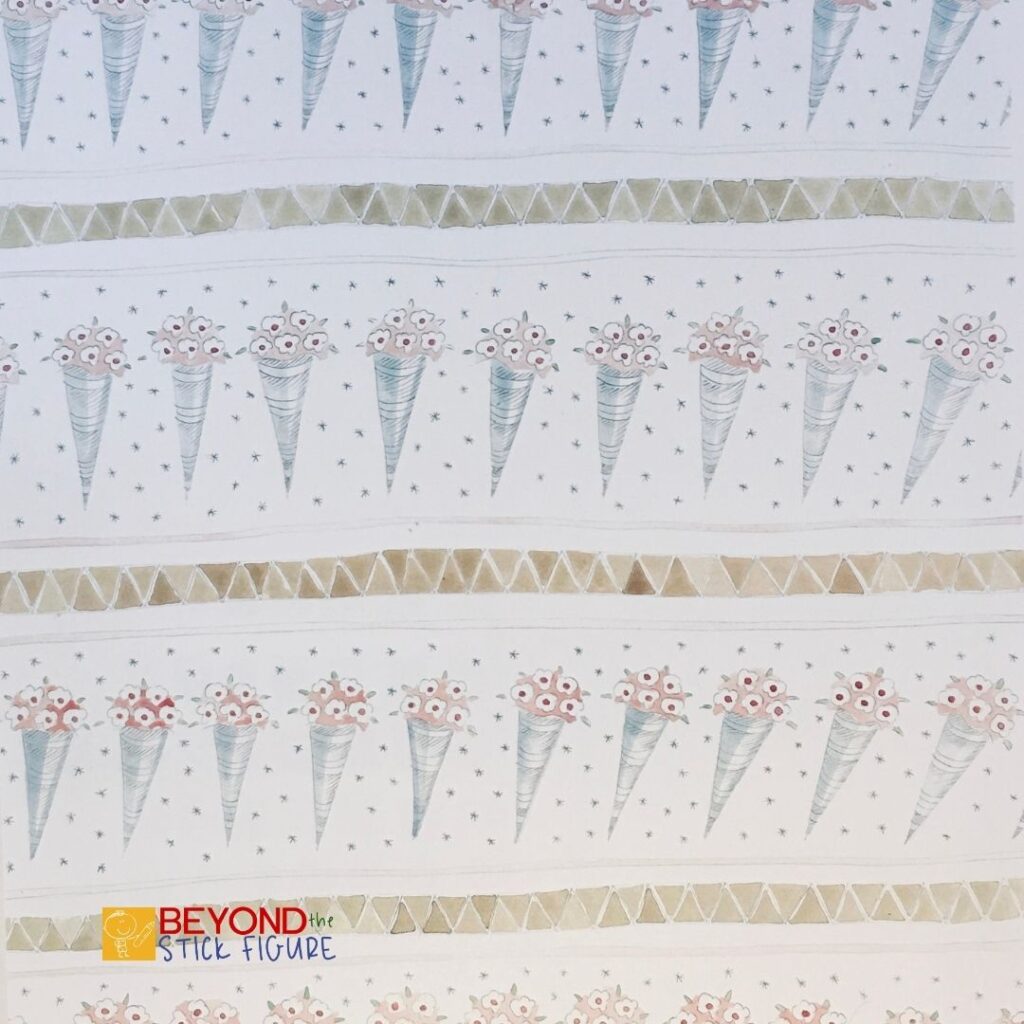 Make Your Own Wrapping Paper with Designs
Get large rolls of sturdy paper. Think brown packing paper or heavy weight white paper. If you paper is too thin, it will be difficult to use. Next, consider your medium. Pen and Ink, acrylic paint, or simply sketching are the easiest to use.
Plan out your design. Do you want to do one big design or make repetitions of smaller one? Here are some ideas, remember there is no right or wrong in art!:
Abstract (especially good for young children)
One large design
Small repetitive design
Mixed medium
Jackson Pollock, anyone, lol–have fun with it!
Stamps or photocopied designs that are colored/decorated by hand
Using paper to make designs on the main paper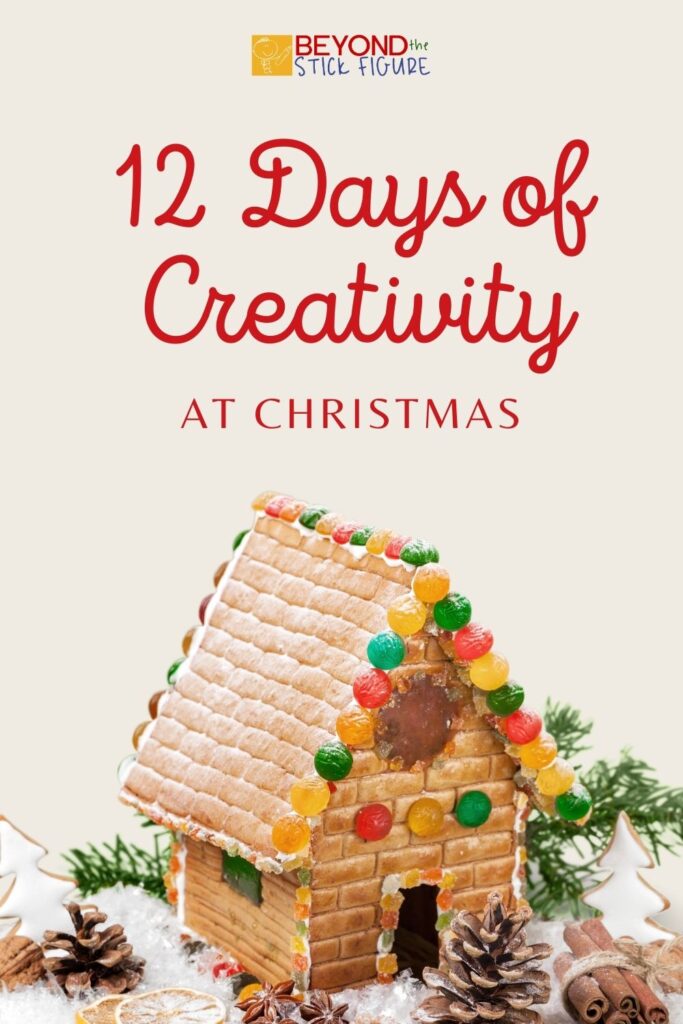 Alternatives to Wrapping Paper
Not up to painting a million tiny stockings on a large sheet of paper? Creativity is not limited to painting and drawing. The world is your canvas! Anything can become gift packaging and a work or art. Here are some other ideas to get your creative juices flowing if you want to make your own wrapping paper:
Sew or fabric glue cloth gift sacks
Decorate premade paper gift bags (be sure to purchase ones that do not have the shiny finish)
Create gift "toppers" a little accent piece to add to the top of each package
Bandanas or scarves
Decorate cardboard boxes
Socks, t-shirts, or mittens make awesome packaging when tied with a ribbon.
Reusable fabric bags
Newspaper or comics
Art projects your kids have collected over the year
Buckets, baskets, barrels, and more!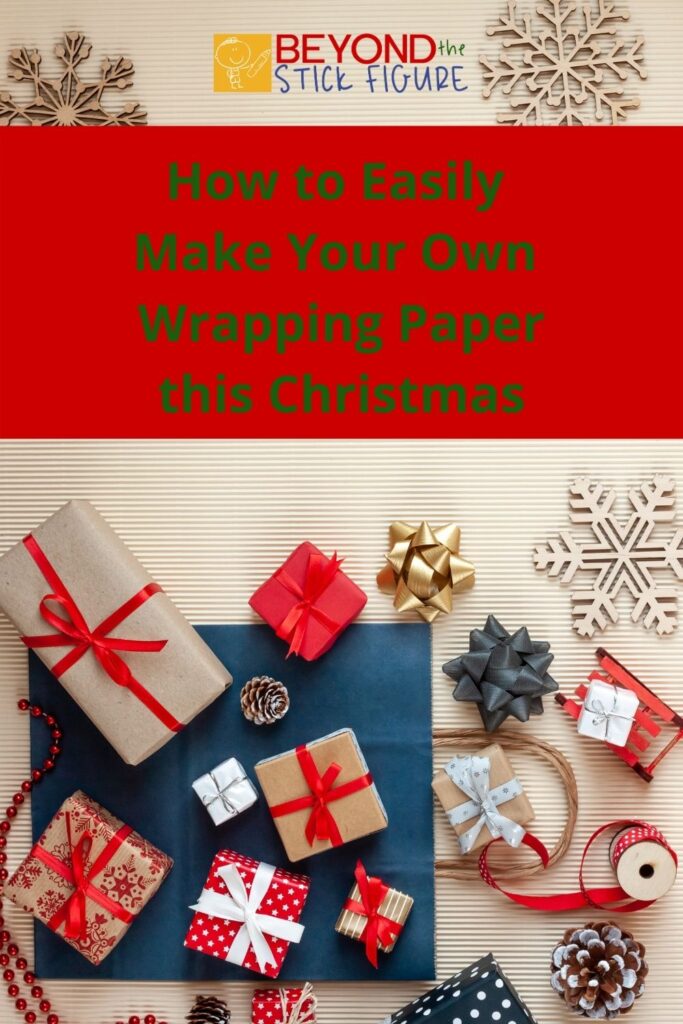 Want to Learn More?
Grab the Winter Pen and Ink Templates for a basic lesson in pen and ink, plus templates that can be used in all your holiday projects!
This post is part of the 12 days of Creativity at Christmas series. Find the other posts, plus an awesome giveaway, here!