Many people think homeschool moms are superheroes. They have some sort of magical power to make it all work. That is totally not true. We all struggle and get frustrated. When you have the support and resources you need, that is much less likely. However, no one is perfect. So where do you find homeschool help when you need it?
Support and Resources for Homeschooling Moms
I remember being a new homeschool mum and being overwhelmed. However, I had a good friend who was homeschooling her children, and was there to help answer questions. There are so many questions when you just start. It can be frustrating to not find answers easily. That is why How to Homeschool Event for Moms 2.0 exists. We wanted to give back to the newer home education community and help those moms who may be overwhelmed with questions like I was.
Am I doing enough?
What if I fail?
What about socialization?
How do I know if my child is learning?
So many questions, but now there is a place to get answers!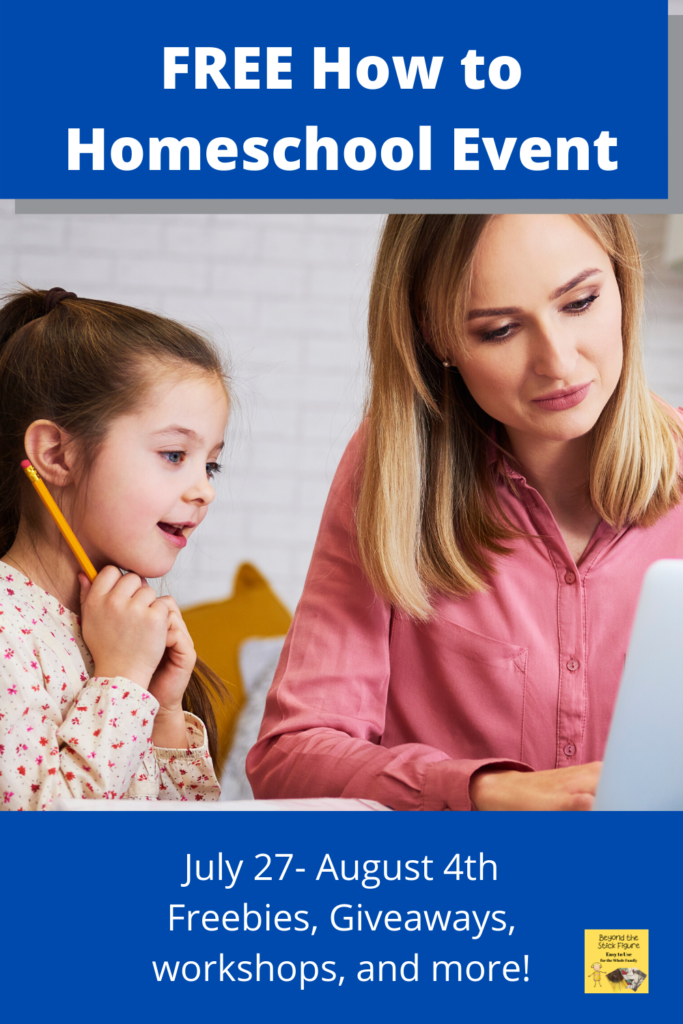 How to Homeschool
Here are some reasons why you need to join the part How to Homeschool Event for Moms 2.0:
1. A huge giveaway worth over $200 with all kinds of goodies to make this coming year amazing
2. Swagbag fully of goodies for everyone
3. Inspiring and engaging workshops to help you kick the year off right
Simply join the event here, it's free for everyone.
Oh, here's one more reason. We have some incredible vendors that have amazing offers. Not just your run of the mill vendors, either. This is an awesome line up. Each vendor is offering special deals, free workshops, and a chance to ask questions. Can't get that for Amazon or a catalog. So, let's take a moment to meet these wonderful vendors:
Where Can I Find Homeschool Help?
Breakthrough Homeschooling: Tools for the teen years: helpful tools for homeschooling through high school and parenting your teens. Pat Fenner is on a mission to inspire and equip you on your homeschooling high school journey. You can learn more about Breakthrough Homeschooling here: https://breakthroughhomeschool…
Sound Foundations Homeschool
Get the tools and support you need to build a thriving and successful homeschool for your special, unique child in less time, with less stress, and for less money. You can learn more about Sound Foundations here: https://soundfoundationshomesc…
The Happy Homeschooler
Do you want to be a happy homeschooler and have a smooth transition from school to home? The Happy Homeschooler will make this uncertain and trying time amazing and enjoyable! You can learn more about the Happy Homeschooler here: https://www.traceyhagerman.com…
A Heart 4 Homeschooling
"What about chemistry?" Have you heard that before? Well, A Heart 4 Homeschooling has everything you need from phonics to chemistry to cover those tough bases and homeschool with confidence. Learn more about A Heart 4 Homeschooling here: https://aheart4homeschool.com
Danielle Tate
Cringing at the price of curriculum? Afraid that you will drown in debt? Danielle Tate is helping families win the war on budgeting, and teaching moms how to make homeschooling affordable for everyone. You can learn more about Danielle Tate here: https://danielletate.org
Y.M.B.A. Virtual
Have a 12-16 year old? Then YMBA is a treasure trove of resources. Free worksheets, social clubs, online courses, and more. This is your one stop shop for a thriving middle school or high school experience with courses in everything from music to accounting! Learn more about YMBA Virtual here: https://www.ymbagroup.com
La Familia Foundation
Hables Espanol? La Familia Foundation provides support, resources, and planning tools in English and Spanish. Serving the diverse community of homeschoolers, La Familia Foundation has something for everyone. Learn more about La Familia Foundation here: https://lafamiliafoundation.co…
Julie Naturally
Homeschool Help, Wholistic Health, and Holy Living are the 3 pillars of Julie Naturally. With a wealth of unschooling and Christian homeschooling resources, this vendor is a must see! You can learn more about Julie Naturally here: https://julienaturally.com
Whew, made it through that incredible list! Be sure to join us in the group, see you there!