Online Art for Kids Subscription
$15.00 / month with a 14-day free trial
Online art courses and projects for the entire family. Get unlimited access to the ever growing library of courses and projects. Suitable for students age 5-95. Create beautiful masterpieces and learn foundational art skills that will have you creating for years to come. Art techniques build confidence and creativity. Give your family the best for one low subscription!
Description
Do you kids love art? Do you wish you knew how to paint and draw so you could be creative with them? Introducing the online art for kids subscription built for the whole family. Spend quality time together, create amazing masterpieces, and build confidence in your creative skills. If you can draw a stick figure, you can learn to paint and draw! Imagine your whole family creating beautiful memories and masterpieces right in your own home.
What makes these online art classes different?
You probably think that real art is only for those who are talented or gifted. However, that isn't true. For generations, we have been teaching art in the completely wrong way. Can you imagine a piano teacher saying you can only learn to play piano if you are as gifted as Mozart? No, way. Why not teach art the same way piano and phonics are taught? That means bite sized, incremental lessons that build on your skills while developing your confidence and competence. With this method, EVERYONE can become the accomplished artists he yearns to be.
Study show that students who study art are 4 times more likely to be recognized for academic achievement.
Arts and music education programs are mandatory in countries that
consistently rank highest for math and science test scores, like Japan, Hungary, and the Netherlands. 
How is this different than the "paint with me" style projects online?
Let's be honest, it can be fun to get together with friends and follow along step by step to create the exact same picture. However, that isn't learning art. Beyond the Stick Figure projects and courses teach foundational art skills that give you the ability to keep on creating even after you have finished the course videos. No two projects will come out exactly the same, and that is the beauty of it. Not only will this give you the skills and confidence to be an artist, you will develop your own style. Through bite size, technique based lessons you become an accomplished artist. Your work is your own, not an exact copy of someone else's.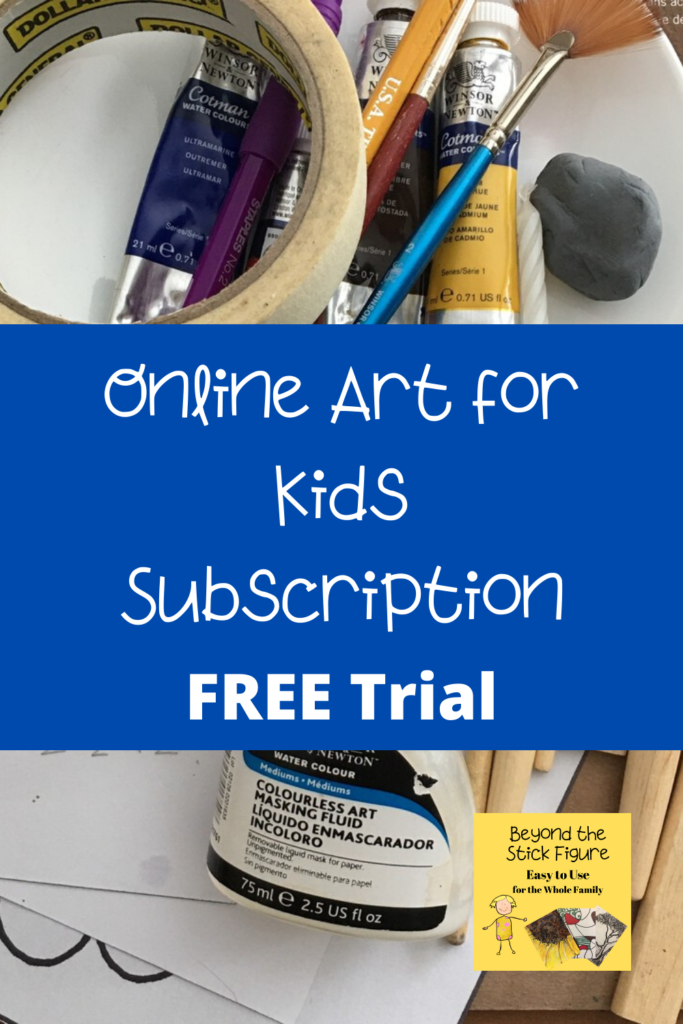 What about Material?
Materials are not included in the membership, however they are kept to a minimum. By learning how to mix and blend colors, you can paint a wide variety of projects with just a handful of colors. The colors used in one project can be used in others as well. The core materials requested will build a solid art kit that can be used for years to come. Also, most materials can be shared by the entire family, once again making it affordable and thrifty. Our aim is to encourage the use of high quality materials, while keeping thing affordable for all families.
What Does Online Art for Kids Subscription Include?
Get all this for just $17 per month! Try it for FREE for the first 7 days! Check out the classes, try a project or two. If you aren't satisfied, simply cancel your membership and owe nothing! You have nothing to lose!
This subscription is suitable for students age 5-95. Perfect for the whole family to enjoy together!
No prep lessons
Open and go format
Short lessons make it easy to fit into your busy day