This post may contain affiliate links. By clicking on a link, BSF will receive a small commission. Thank you for helping to keep this blog running.
When I was approached to review Literary Adventures' House and Pooh Corner Online Book Club, I could not help but say, "Yes!"
I have a special little place in my heart for Winnie the Pooh, the Hundred Acre Wood, and the gorgeous pen and ink illustrations of the original series. Maybe it's because I grew up just outside Winnie the Pooh's magical land. The Hundred Acre Wood was a part of my childhood in a very real way. I think that is why I love pen and ink so much.
What I Like about Literary Adventures House at Pooh Corner Online Book Club
So, aside from the fact that I love Winnie the Pooh, there were many aspects of this book club that I enjoyed. First, I like how it is more of a unit study that a book club, However, it still has that club atmosphere and community connection. It really is different than anything I have seen in all my years of homeschooling.
Every chapter includes activities and related topics to learn about. I like how outdoor adventures and nature study tie into the literature experience. Covering more than one subject at a time is a great time saver and help to homeschooling moms.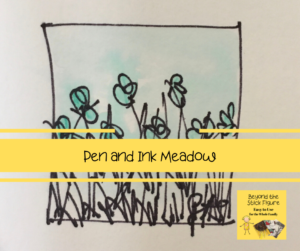 What Makes this Different than other Book Clubs or
Literary Guides
Literary guides focus mostly on the literature and language arts. There are usually vocabulary words to learn, questions to answer, and maybe some grammar to study. Literary Adventures includes vocabulary and reading guides, however it goes far beyond that. Every section has "Rabbit Trails," "Magic Dust," and "Outdoor Adventures for the children to complete. The Rabbit Trails lead you into learning about specific topics related to each chapter, such as bears, breakfast, and bouncing animals. (Not every topic starts with the letter b, those just caught my fancy and sounded so eloquent together, lol.)
Then there are Magic Dust sections feature crafts and activities that not only teach but entertain. I really enjoyed the adorable "Play a Game of Pooh Sticks." That brought back memories. The crafts were very sweet as well, such as making a den for a hibernating animal. Lastly, there are Outdoor Adventures which get the kids out into nature.
How to Use Literary Adventures Book Clubs
First, these book clubs are so well laid out that it is very easy to use. The materials and suggested books are listed at the beginning, however it is very versatile. You can really use this however it fits best into your homeschool. I think the best way to do this is as a unit study and count it as literature, nature study, and science. It would truly lend itself to including more subjects and can easily be used as a jumping off point.
Conversely, these could be a sweet little addition to literary studies. It can simply encompass language arts for the year or a short term. Really, the possibilities are endless. Oh, I almost forgot to mention, it ends with a party. A sweet little party based on the book. Just remember to include some good tea! Pooh would have had proper tea. 🙂
Join Literary Adventures for Your Next Unit Study
The House at Pooh Corner is just one in an ever growing line of Literary Adventures. There are so many options and genres of books. The adventures are all very reasonably priced. There is something for various ages and even several poetry studies.