It's been a rough year! Even though gifts are not what Christmas is all about, I think we can all agree that a bit of Christmas cheer is needed more than ever. Small businesses have been particularly hard hit! So we wanted to do our part to help out and share some of the amazing homeschool Black Friday 2020 deals we have found.
Please support these small businesses in any way you can. Oh, and while we are on the topic of deals, Beyond the Stick Figure has a couple, too.
Christmas Art Gifts for Kids
Have a budding artist in the family? Looking to spend more quality family time together? Why not give the whole family a gift that just keeps on giving?
For a limited time, Beyond the Stick Figure is offering 3 and 6 month gift certificates to Online Art for Kids Subscription that include up to $50 worth of bonuses! Plus, save $5-$10 off your subscription. It's the gift that keeps on giving! Offer ends 12/10/2020 so don't delay!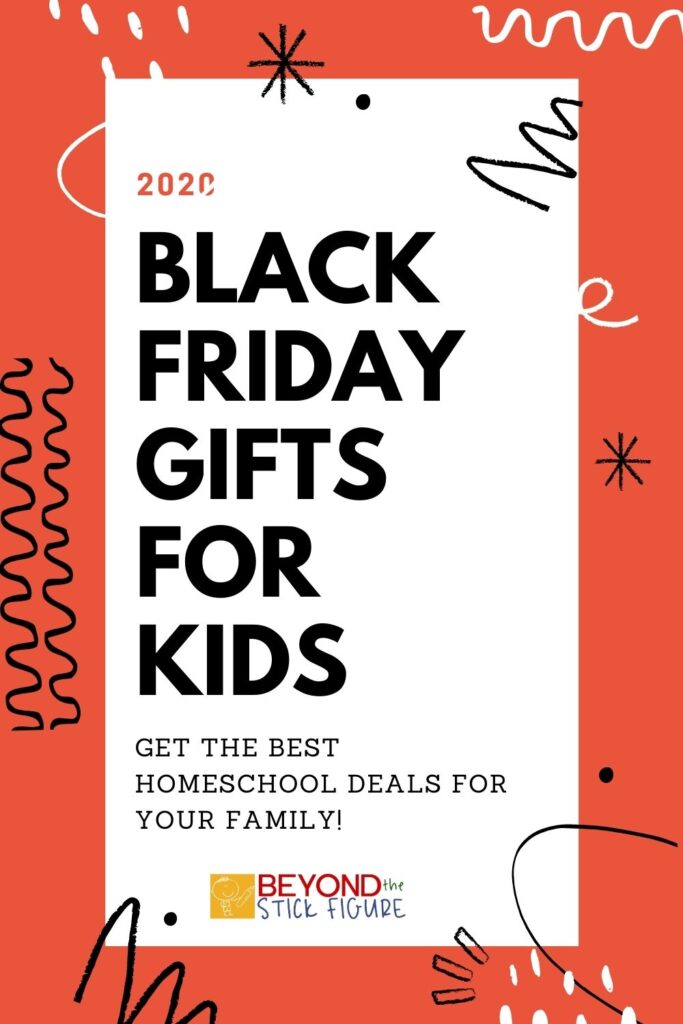 Homeschool Black Friday Deals 2020
Homeschool Planet's Christmas Planet Unit Study is only $5.99 til 11/30.!
Intentional In Life Shop is offering 50% off all items including the Intentional Homeschool Planning Conference starting Thanksgiving day November 26 through Monday, November 30, 2020 Coupon code: HOLIDAY50
Daily Skill Building is offering a BOGO Half off deal storewide until 11/30
Grab Media Angel's set of 3 planners on Awareness, Decisiveness, and Forgiveness for 50% OFF with our special coupon code! Use code: CHARACTER2020 at checkout.
Homegrown Motherhood is offering 50% off the Homegrown Business Academy with code BF2020 Ends 12/1 and 15% off all products in their shop with code BF2020 Ends 12/1
Vegas Kids Zone is offering 50% off the entire store! Use coupon code BF50.
Get 25% off + Free Bonus at The Crafty Classroom with Code BLACK25 (Ends 11/31/20)
Save $75 off an annual subscription to Skrafty through 12/1.
Grab 25% off the entire store at Heart and Soul Homeschooling.
Save 10-20% off on spring classes at True North Academy this weekend only!
Hope in the Chaos is having a sale that includes The Ultimate Home & School Planner (newly redesigned, larger, and super cute!), The Complete Beginner's Guide To Homeschooling, and the Grow Your Faith Planner! No coupon code needed!
Big Ideas through History is having a super sale. Get Everything Part 1, including all Units and Add-ons, for more than 50% off, no coupon needed. Or use code "GiveThanks2020" to take 25% off any other Big Ideas through History or Beyond Mommying product. Discounts valid 11/26/2020-12/1/2020
Black Friday Deals for Homeschoolers
A Heart for All Students is offering $100 off of Barely Surviving to Outright Thriving Course for moms whose children are struggling with meltdowns, tantrums, executive functioning issues.
Captivating Compass is offering a whopping 75% off everything in your cart! Use code: BlackFriday75Code Valid 26-30 November
Homeschool Dietician Mom is offering 60% off everything in the store, including stuff already marked down, November 27-29, 2020. Code is BLACK20
Danielle Haldane has 20% off in her shop! Use code BlackFriday2020
Homeschool on the Range is offering 25% off everything with coupon code HOLIDAYS2020
Homeschool Gardens is offering 50% off everything in the store through Dec 3. Coupon code is thanks50.
Life with Many Blessing is having a 50% off sale Black Friday through Cyber Monday on their Homeschool Mom Digital Planner.
https://www.etsy.com/shop/SillygeesePublishing Coupon Code: cybersale2020Discount:Sale, 20% off when you spend $40Active: Nov 21, 2020 11:00 PM—Dec 2, 2020 11:00 PM
Gifts for Homeschoolers on Sale
Get 40% off ENTIRE How to Homeschool My Child Store through Monday, Nov 30. Code: CYBERMONDAY2020 Whether you need help focusing on Jesus during Christmas, being consistent in character training or homeschooling your kids to love learning and think critically, you can SAVE 40% on the entire How to Homeschool My Child store
Get 50% off the whole store at Homeschooling 4 Him through November 30th with the coupon code Thankful50
www.CraftsmanCrate.comUse cratefifteen for $15 off a 3 month subscription of the subscription box that builds your skills!
Get a Training Knife worth $13 FREE when you spend $50 at Raising Real Men with coupon code TrainingKnifeFree$10 Priority Mail Shipping, or FREE Shipping with a $100 spend with coupon code ShipMe100 until 12/1. Get 50% off downloadable audiobooks published with CelebrateAudio code and 30% off CD versions with CelebrateAudio30Use BookBlessing15 to get 15% off Hal & Melanie's books about marriage and parentingPlus gifts and gear on sale!
Use coupon code BLACKFRIDAY2020 at Love at Home Education for the advertised extra 20% off. Goes til December 5th
Shop Funda Funda Academy regular-priced unit studies and teaching resources. Expires 30 Nov If you spend $30 or more, use coupon NOV25 for 25% discount. If you spend $60 or more, use coupon NOV50 for 50% discount. If you spend $100 or more, use coupon NOV75 for 75% discount
This Bit of Life will be having 30% off all of the products in their shop with the code BLACKFRIDAY30. This includes the Rabbit Trails curriculum.
Nicki Trusdell's book Anyone Can Homeschool will be on sale for 9.99 on her website and on Amazon.
Registration is NOW OPEN for Joyful Notes' Online Group Piano Class starting in January! Enjoy their Cyber Monday Week Sale of 66% OFF until December 1, 2020 for a price of $39.60 — LESS THAN $5 per lesson!
Visit to find out more and purchase a Christmas gift for the special kids in your life!!!