Join the Masterpiece of the Month Club built for family fun and creativity. Every month you will have access to a new course or course bundle for your family to enjoy. Short, easy to follow, beautiful projects that can enrich your homeschool or simply provide some precious family time. Included projects sell for $17 to $30 each, but members get access for just $15 per month!
Open and go projects include step by step videos and relevant printables. Through a use of a wide variety of mediums, your family will experience the wide world of art creation. Every month, you will learn new art techniques through fun, engaging, and diverse projects. Every month is a new adventure!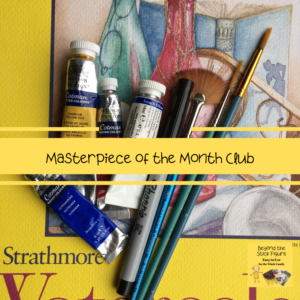 If you are looking for a way to add a little art and creativity to your homeschool, this is a perfect way to do it. No lesson plans to write, no complicated projects to figure out. Every step is clearly laid out so all you have to do is enjoy.
Projects range from painting and drawing, to sculpting and making greeting cards! Each month a new course will be released and remain available for two months. This gives you flexibility to take you time completing your masterpiece.
Members will create the following masterpieces in the Masterpiece of the Month Club:
June: Paint Your Own Family Portraits
materials: red, blue, and yellow watercolor paint tubes, fine tipped permanent marker, glue stick, scissors, Bristol vellum paper, fine tipped colored markers(We recommend the set from Staples), mechanical pencil, and fine tipped paint brush.
July: Complete Family Drawing Course 
materials: permanent marker fine tip or other black pen, scissors, and white paper
August: Sculpey Flower Jewelry and Gifts
materials: white Sculpey polymer clay, yellow Sculpey polymer clay, Sculpey Glaze, and optional jewelry findings
September: Artsy Painted Pumpkin PLUS Watercolor Pumpkin Projects
materials: white acrylic paint, turquoise watercolor paint, blue watercolor paint, miniature pumpkin, varnish, watercolor paper, yellow watercolor paint, red watercolor paint, ultra-fine tipped permanent marker, flat paint brush, round paint brush, fan shaped paint brush, salt, and a white birthday candle
October: Watercolor Christmas Card
materials: watercolor paper, red watercolor paint, yellow watercolor paint, blue watercolor paint, fine tipped paint brush, card stock and envelopes.
November: Handcrafted Advent Countdown
materials: scissors, fine tipped markers, gold and/or silver pens, and a glue stick
December: "Say it ain't snow!" Mini Snow Scene
January: Pen and Ink Landscape
February: Acrylic Bird
March: Egg Cup Scupey
April: Make a Bouquet for Mother's Day
May: "Creating a Buzz" with Lost and Found Lines